Regular price
Sale price
$299.95
Unit price
per
Sale
Sold out
4 Instalments of $74.99 AUD
Suitable For People With

Uneven Pigment
Minor or Major Hyperpigmentation
Hypopigmentation
Deep Pores
Unhealthy Looking Skin
Tired & Dry Skin
What's Included

1.00mm Premium Derma Roller x 1
1.50mm Derma Roller Head x 1
0.25mm Derma Roller Head x 6
30ml Professional Vitamin C Serum x 1
30ml Tri-Hyaluronic Acid Serum x 1
Silicone Facial Cleansing Brush x 3
Storage Cases For Your Roller & Heads

Total Value: $556.45

Bundled Price: $299.95 (Save $256.50)
How To Use

Usage - Monthly
1.00mm Derma Roller
This size roller will be your main device when working on your skin. You'll need to use this 1-2 times a month to see the best results.

Usage - Bi-Monthly
1.50mm Derma Roller Head
This size roller will be added to your usage after the 1.00mm head expires. This size is for deep acne scarring. You do not use this at the same time as the 1.00mm head.

Usage - Weekly
0.25mm Derma Roller Head x 6
This head should be used 2-3 times per week right before you apply the special Tri-Hyaluronic Acid serum. By rolling with this head you increase the efficiency of the serum by up to 40%.

Usage - Daily
Professional Vitamin C Serum
Our serum contains a 20% Blend that contains a unique form of pure Vitamin C/ascorbic acid protected within a silicone matrix, known by the tradename Granactive AA-20 by Grant Industries. This serum should be used daily, morning and night on non rolling days only.

Usage - Daily
Tri-Hyaluronic Acid Serum
This is the most advanced Hyaluronic Acid Serum on the market today. It consists of 3 molecule weights which ensure maximum absorption. This serum should be used daily, morning and night.

Usage - Daily
Silicone Facial Cleansing Brush
Cleansing your face before derma rolling is very important. We've created this cute soft bristle brush that is suitable for even the most sensitive of skin types
Ingredients

Derma Roller Heads
Medical Grade Titanium Needles (600 Needles).

Tri-Hyaluronic Acid Serum
Ultra-Low MW Hyaluronic Acid, Medium MW Hyaluronic Acid, Ultra-High MW Hyaluronic Acid, Matrixyl®, Stay-C®, Chamomile Flower Extract, Aloe Vera Leaf Extract, Orange Essential Oil.

Vitamin C Serum
20% L-Ascorbic Acid & Granactive AA-20 Blend (Vitamin C), Vitamin A (Retinol), Vitamin E, Hyaluronic Acid, Green Tea Leaf Extract, Chamomile Flower Extract, Aloe Vera Leaf Extract, Orange Essential Oil.
Shipping & Returns

Australia: Free Shipping* (AusPost)
New Zealand: Express - $7.95 (DHL)
Singapore: Express - $19.95 (DHL)
Rest of World: Express - $19.95 (DHL)

*Free Shipping in Australia available on all orders over $49.

*Gift Cards Are Delivered Virtually and Instantly. No Physical Card Delivered.

See Full Shipping/Returns Policy
Do You Remember a Time When Your Skin Looked Flawless?
This Pigmentation Derma Rolling Kit will have your skin look even and healthy in no time.
We've come up with a bundle that is the perfect place to start if you're new to derma rolling.
You no longer have to figure out which products will give you the best results; our kits have been designed in a way that they are suitable for beginners or advanced users.
View full details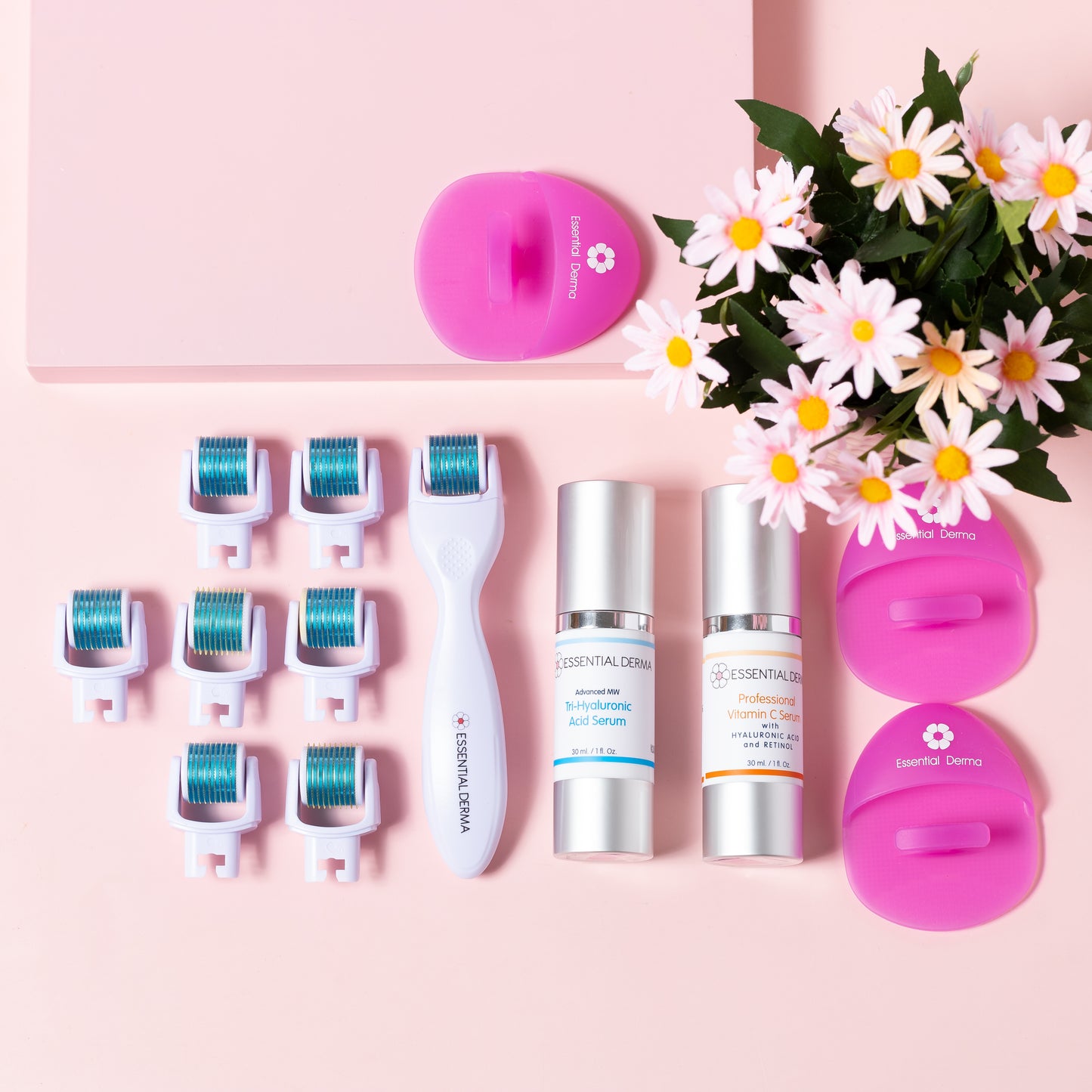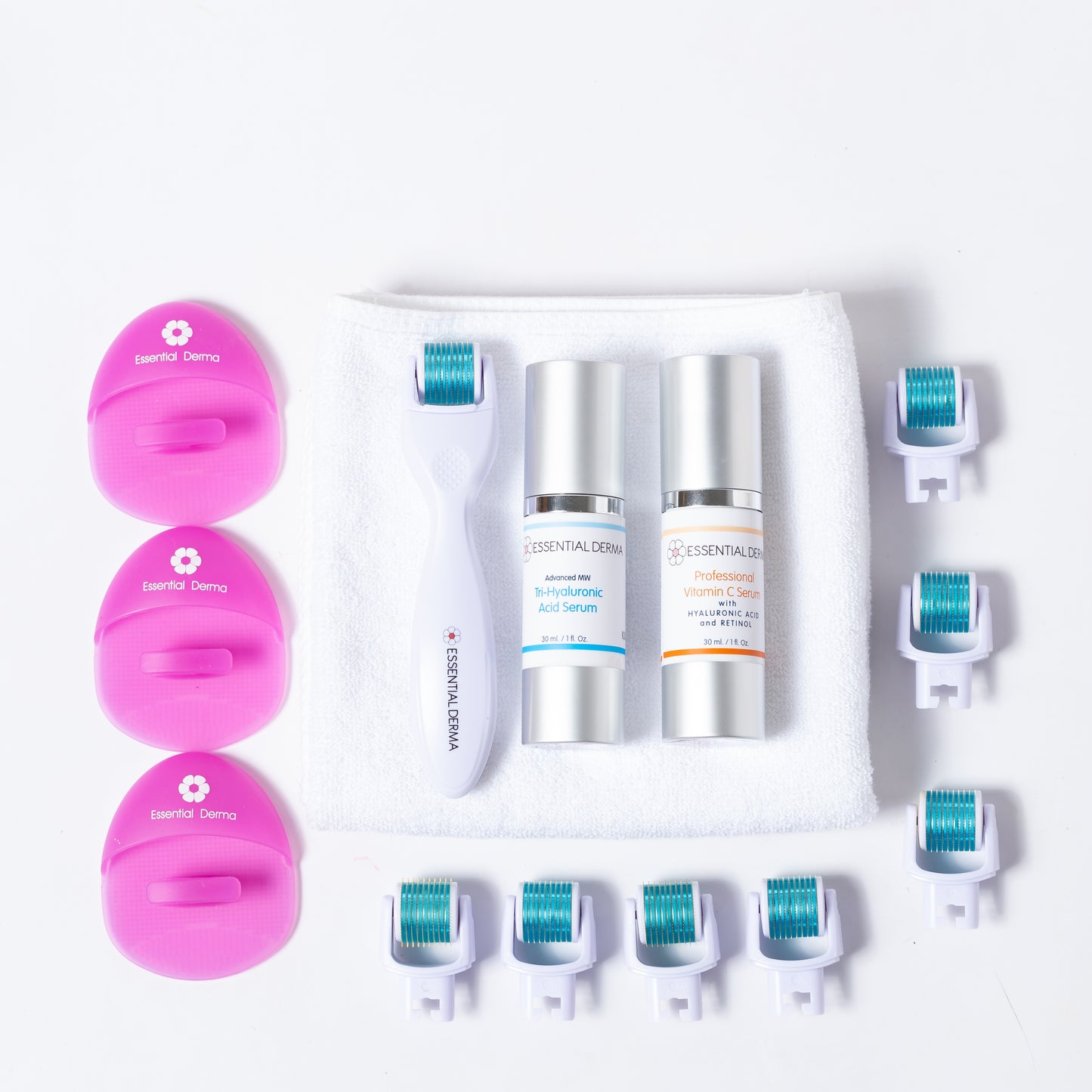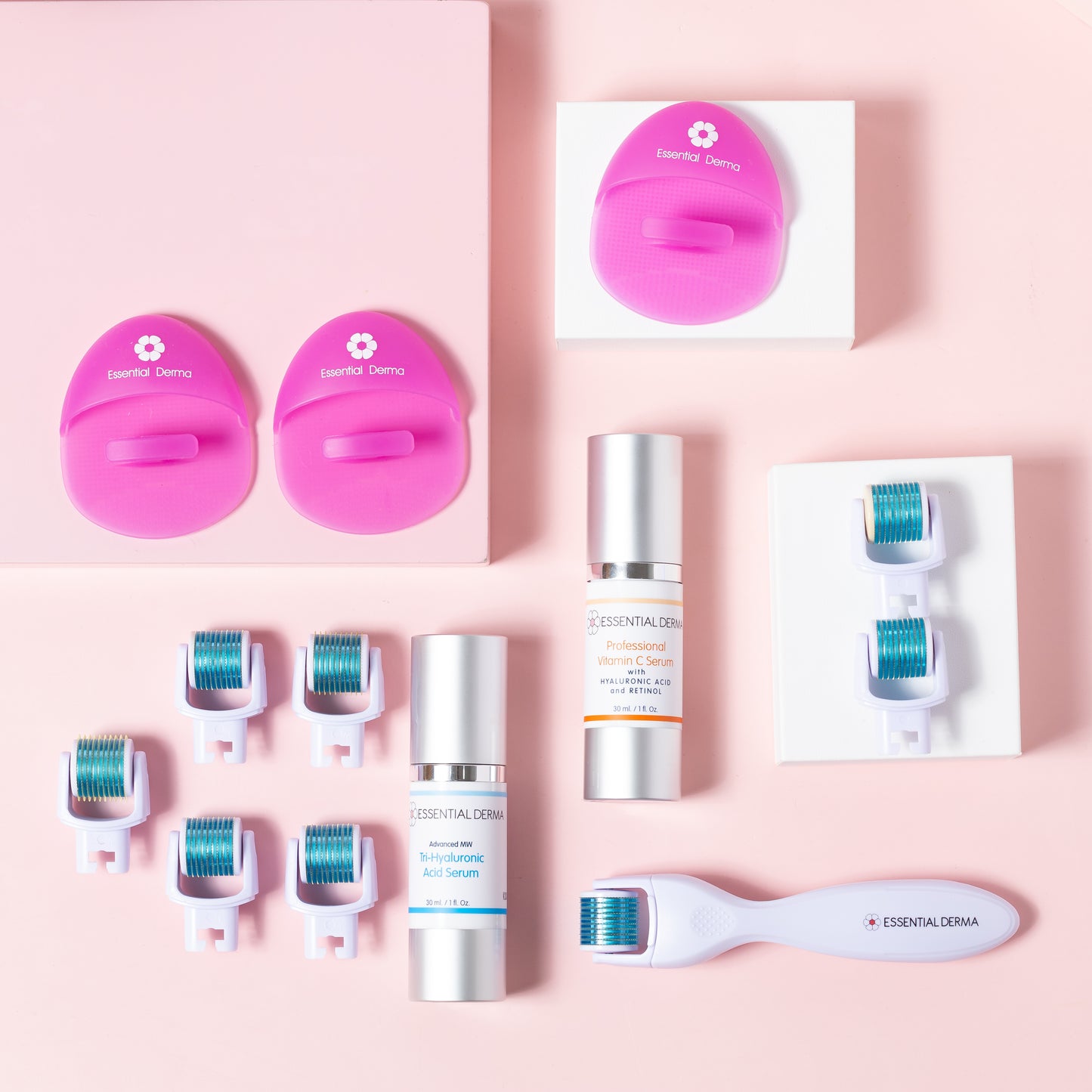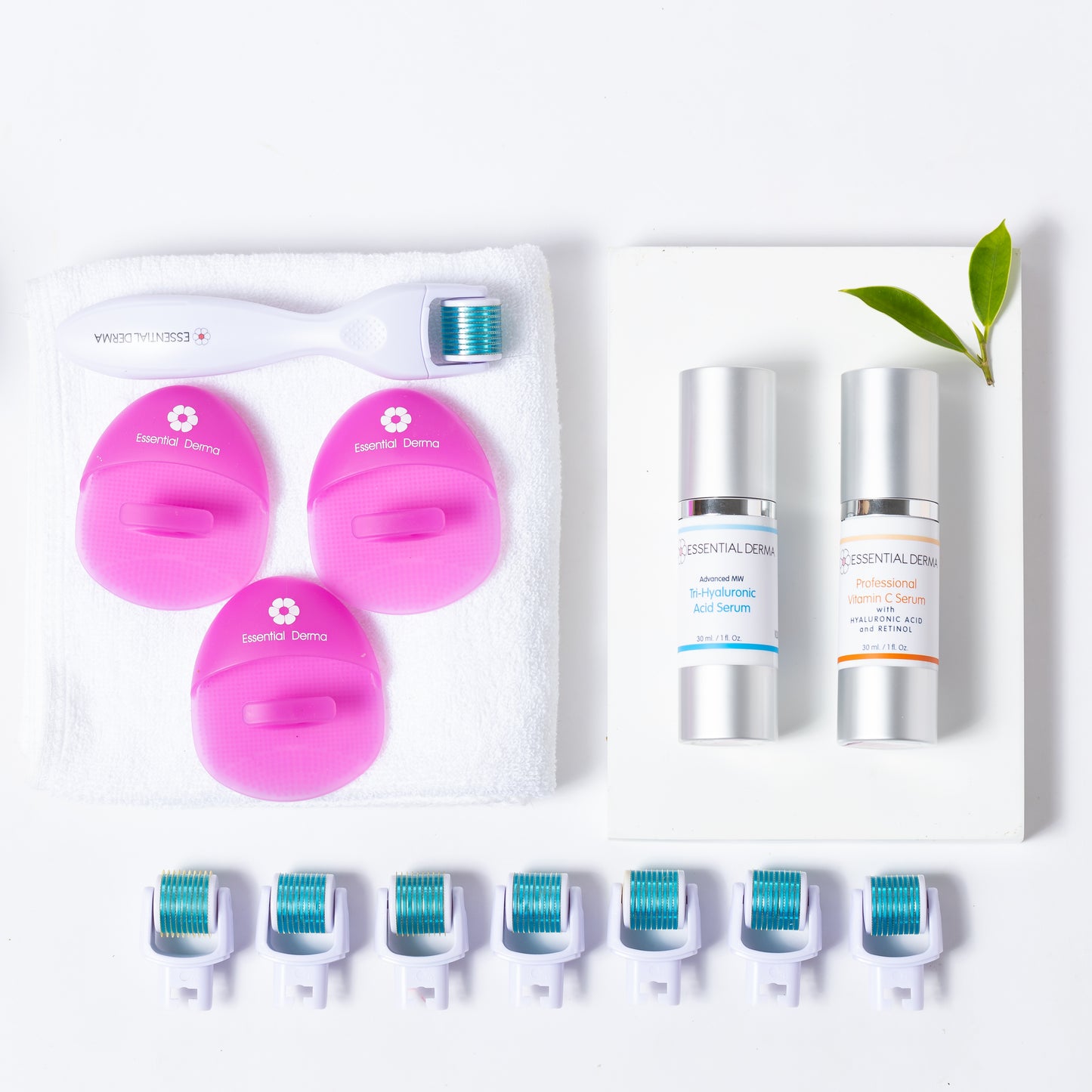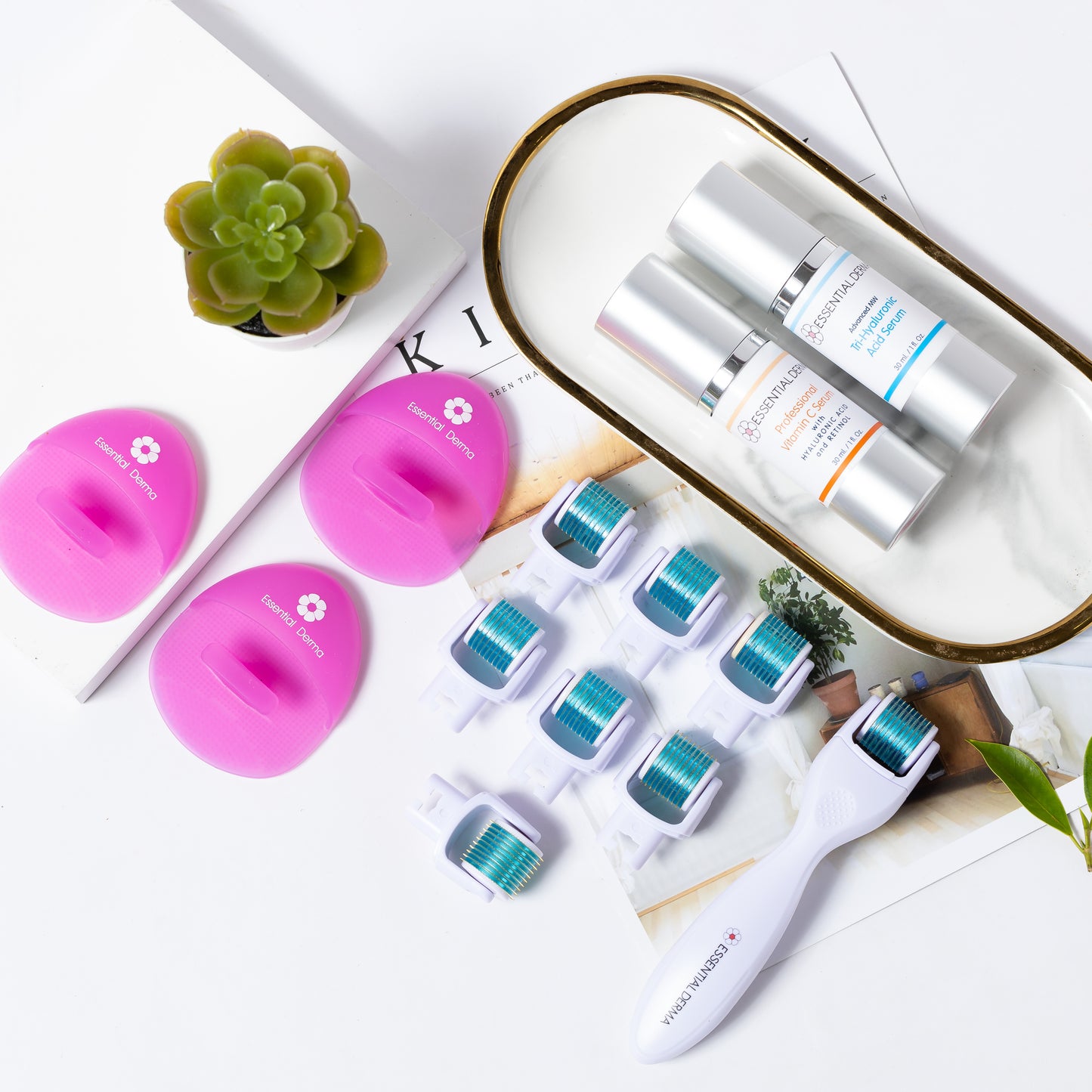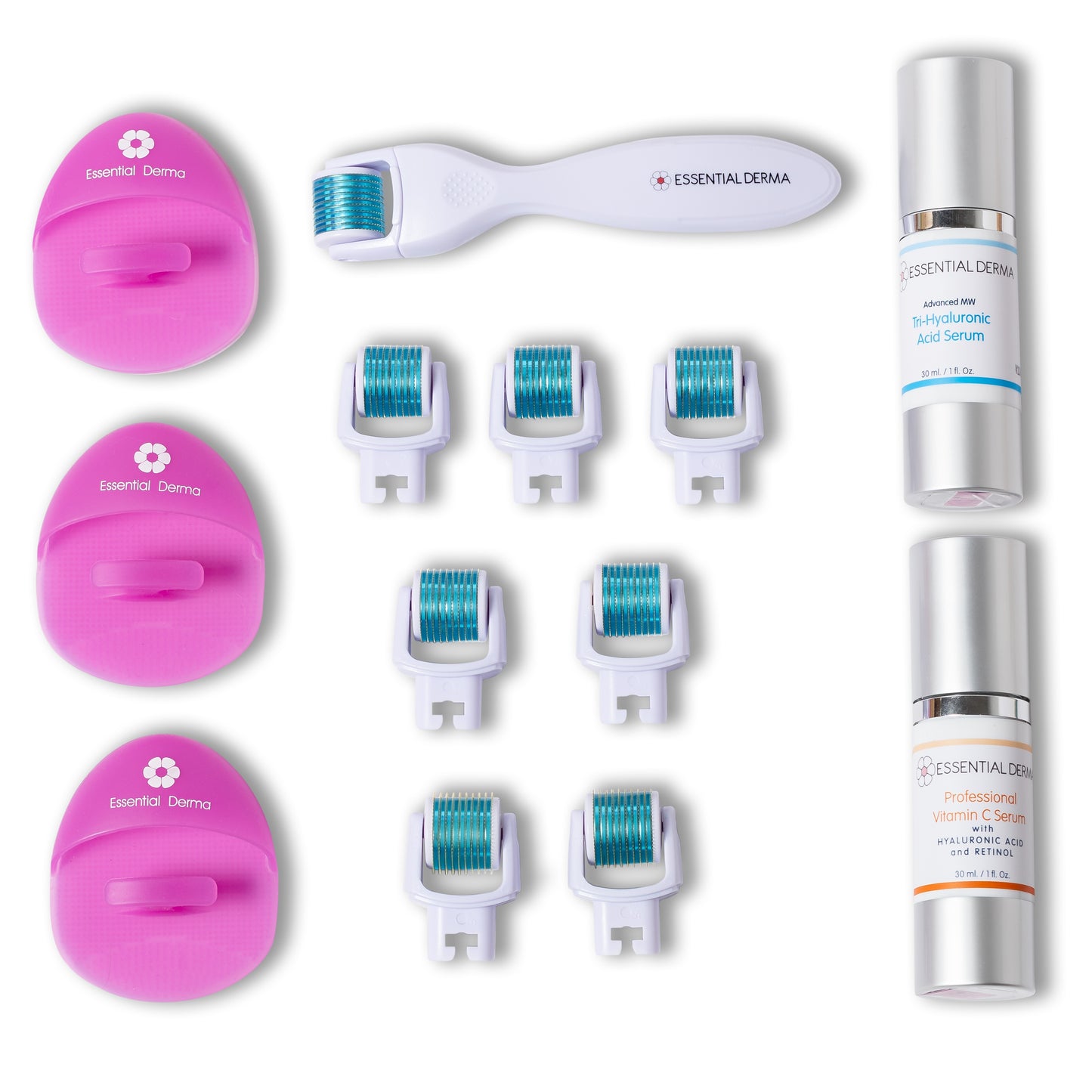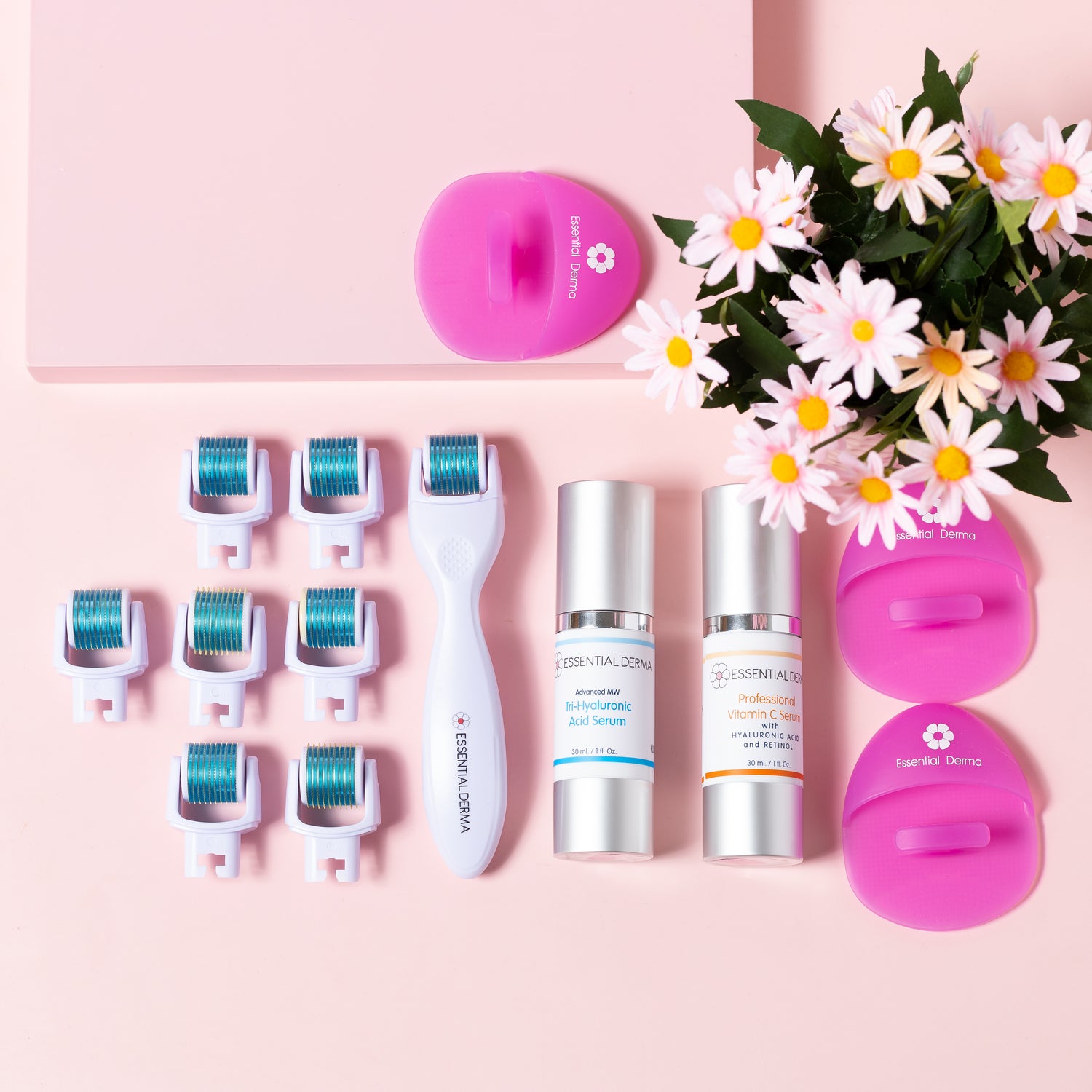 Why Buy Our Pigmentation Correction Ultimate Derma Roller Kit?
Skin Goal:
Pigmentation Problems
Combined Roller Review
I bought the combined pack and sofar so good and great service and easy to use. Nice to have a variety of heads for different weeks and a tailored schedule. My skin does feel noticeably smoother after using and hopefully the pigmentation and scar will reduce in time. Thanks!
Skin Goal:
Pigmentation Problems
I have only been using this for a short time but my skin definitely feels smoother to touch. I havent really noticed a difference in my pigmentation but im sure it will change as I continue to use the product.
Skin Goal:
Anti-Aging/Pores/Wrinkles/Eyes
Pretty instant results
I haven't been consistent enough but so far I've used the higher grade roller on my face twice. My skin is definitely smoother and (weirdly) people at work said I looked younger.
I have only been using the roller for a short time , I've started with the 0.25.
I have noticed a difference ; my skin feels and looks amazing two days after rolling! I love the feeling of the slight tingle directly after using roller.
I have been using the two serums , unbelievable! I am a very picky person regarding my skincare. I only use top of the range products and I was a bit hesitant to try these - but I love them !
The vitamin c makes my skin look smooth and feels like velvet.
The hyaluronic serum so quenching and smoothing. They both feel comfortable on my skin and they actually feel like they are ' doing ' something. My skin really does feel and look great.
I'm very very happy with the products and I'm loving getting to know my derma rolling routine.
My skin generally pretty good , I am hoping to keep it that way using this pigmentation pack , so far so good!!
Yes I recommend 😊
Skin Goal:
Pigmentation Problems
Information is priceless.
It was so easy to understand how to use and they followed me up with a full 4 week regimen taking all the guesswork out of dermarolling.
Skin Goal:
Pigmentation Problems
Wow
This company takes the confusion out of purchasing a Derma roller. Super informative, even down to supplying a regime!
Super fast postage and great follow up!
Skin Goal:
Pigmentation Problems
So easy to use
So far so good. Love how convenient it is to use at home. Both vit c and Hyalaronic acid are lovely on the skin and love that they're all natural.
Skin Goal:
Pigmentation Problems
Swift delivery. Nice Vitamin C & Hydraulic Acid products, absorb well and make my skin feel good. Looking forward to results after doing the prescribed schedule.
Skin Goal:
Pigmentation Problems
Large Pores
Loving the creams and roller to minminse the pores
Skin Goal:
Pigmentation Problems
Love the product
I've only used the roller once I really liked the vitamin c serum
I purchased the roller because of pigmentation issues I haven't seen a difference yet but looking forward to seeing results as I use it more
Overall I'm really happy with the products