Regular price
$189.95
Sale price
$99.95
Unit price
per
Sale
Sold out
4 Instalments of $24.99 AUD
Suitable For People With

Poor Scalp Hair Growth
Patchy Beard Growth
Patchy Eye Brow Hair
Thin Hair
What's Included

1.00mm Premium Derma Roller x 1
0.25mm Derma Roller Head x 3
60ml Revitalizing Hair Serum with Stimucap (NEW)
Silicone Facial Cleansing Brush x 1
Storage Cases For Your Roller & Heads

Total Value: $303.70

Bundled Price: $189.95 (Save $113.75)
How To Use

Usage - Monthly
1mm Derma Roller
This size roller will be your main device when working on your skin. You'll need to use this 1-2 times a month to see the best results.

Usage - Weekly
0.25mm Derma Roller Head x 3
This head should be used 2-3 times per week right before you apply the special Hair Growth Serum. By rolling with this head you increase the efficiency of the serum by up to 40%.

Usage - Daily
Revitalizing Hair Serum with Stimucap (NEW)
This is the most advanced hair growth serum on the market today. It includes Stimucap which has been clinically proven to increase hair growth. This serum should be used daily, morning and night.

Usage - Daily
Silicone Facial Cleansing Brush
Cleansing your face before derma rolling is very important. We've created this cute soft bristle brush that is suitable for even the most sensitive of skin types
Ingredients

Derma Roller Heads
Medical Grade Titanium Needles (600 Needles).

Revitalizing Hair Serum Aqua, SDA-40,aspalathus linearis (rooibos) extract, polysorbate 80, potassium CLA glutathione, sodium DNA (Stimucap), panthenol, serenoa serrulata (saw palmetto) fruit extract, matricaria recutita (chamomile) extract, malus domestica fruit cell culture (apple stem cell) extract ,niacin, menthol, capsicum extract, olea europaea (olive) leaf extract, methyl nicotinate.
Shipping & Returns

Australia: Free Shipping* (AusPost)
New Zealand: Express - $7.95 (DHL)
Singapore: Express - $19.95 (DHL)
Rest of World: Express - $19.95 (DHL)

*Free Shipping in Australia available on all orders over $49.

*Gift Cards Are Delivered Virtually and Instantly. No Physical Card Delivered.

See Full Shipping/Returns Policy
Do You Remember a Time When Your Hair Grew Perfectly?
This Hair Regeneration Derma Rolling Kit will grow your hair in no time.
We've come up with a bundle that is the perfect place to start if you're new to derma rolling.
You no longer have to figure out which products will give you the best results; our kits have been designed in a way that they are suitable for beginners or advanced users.
View full details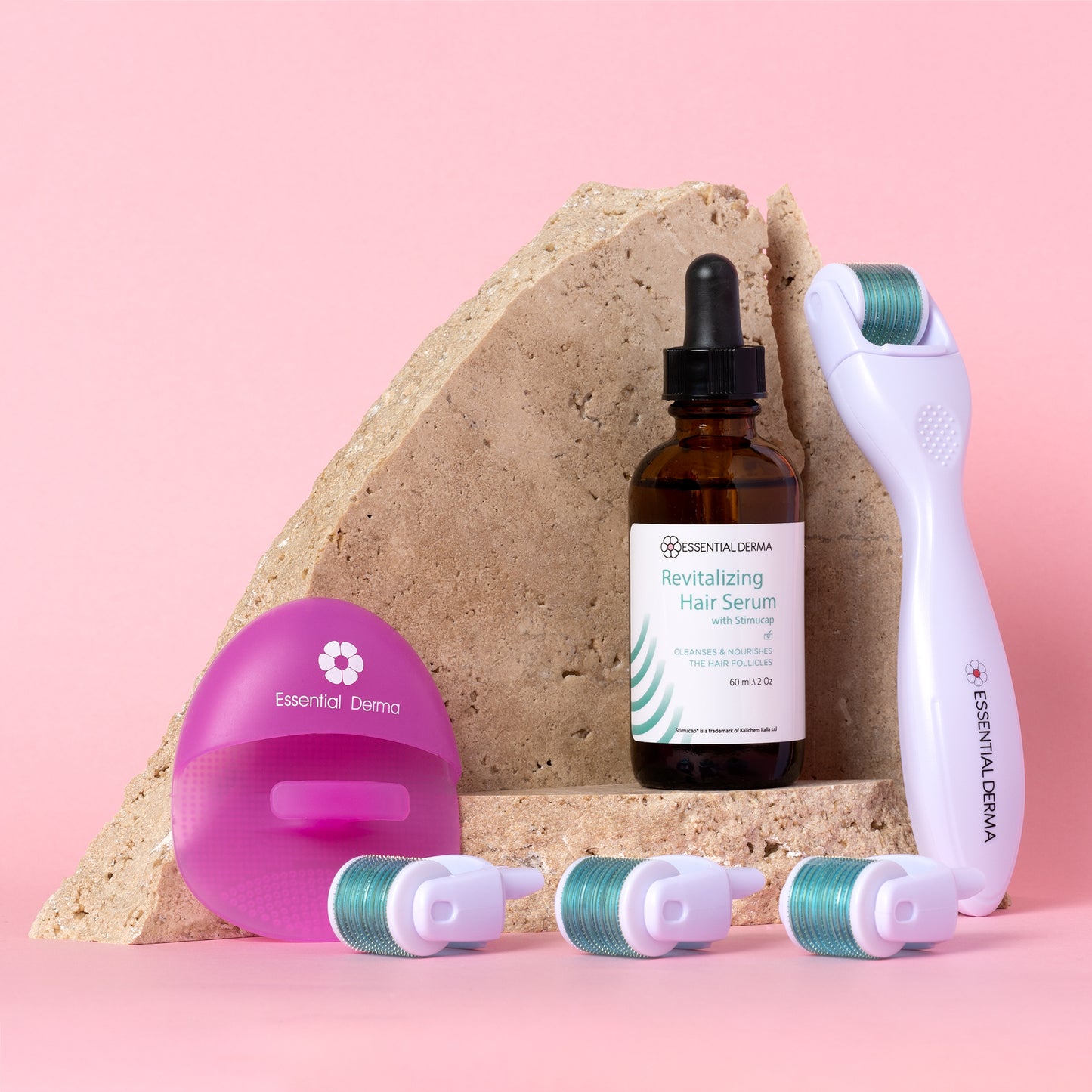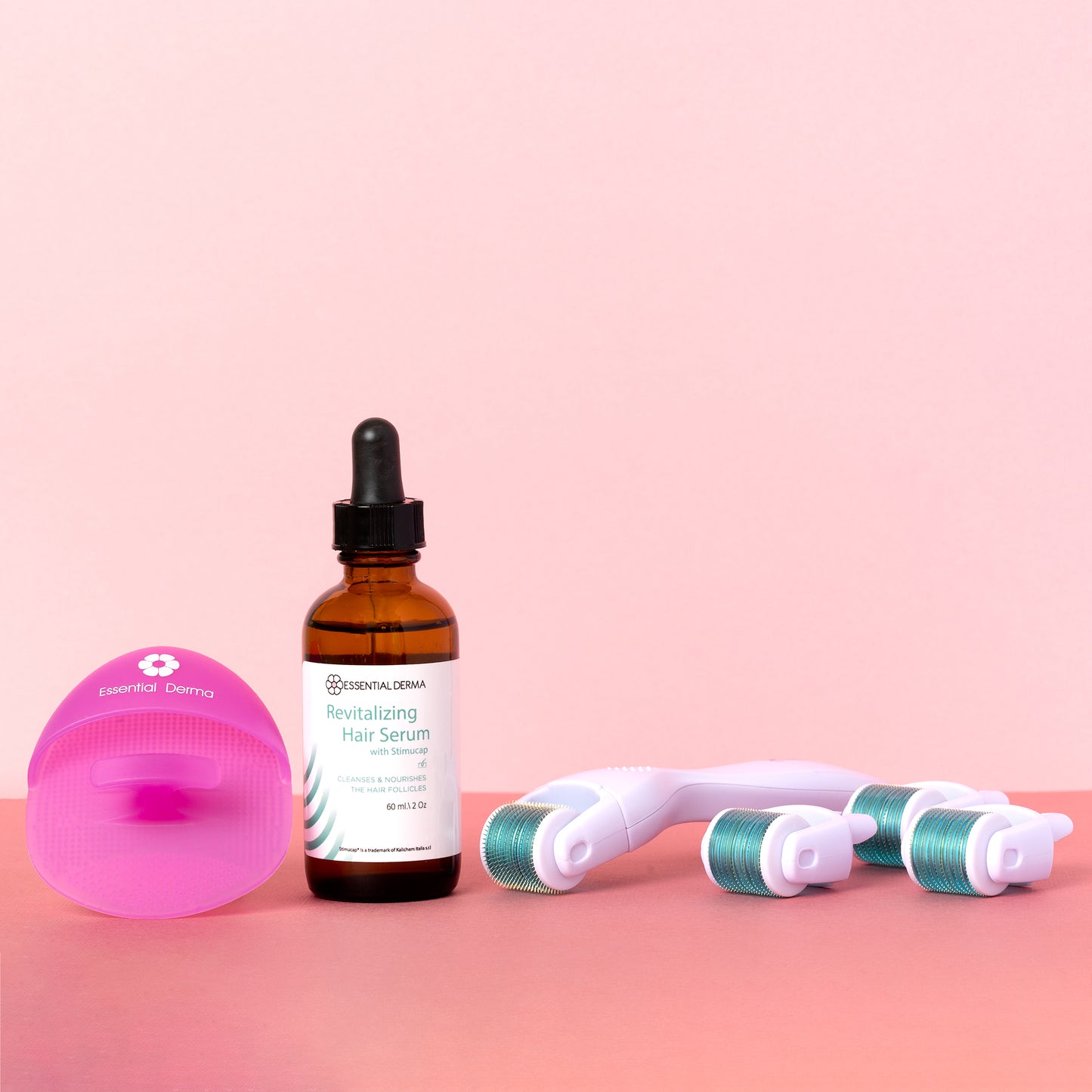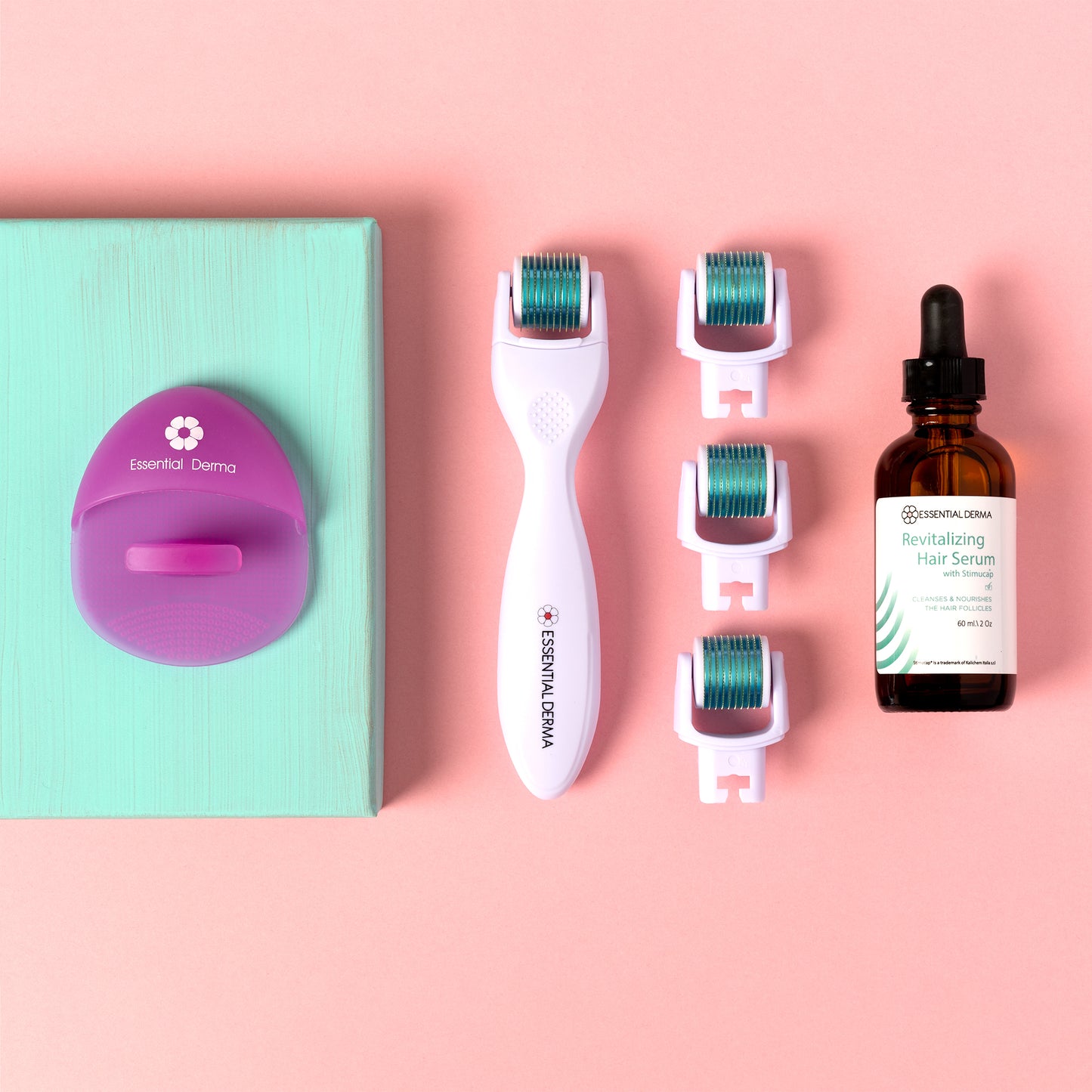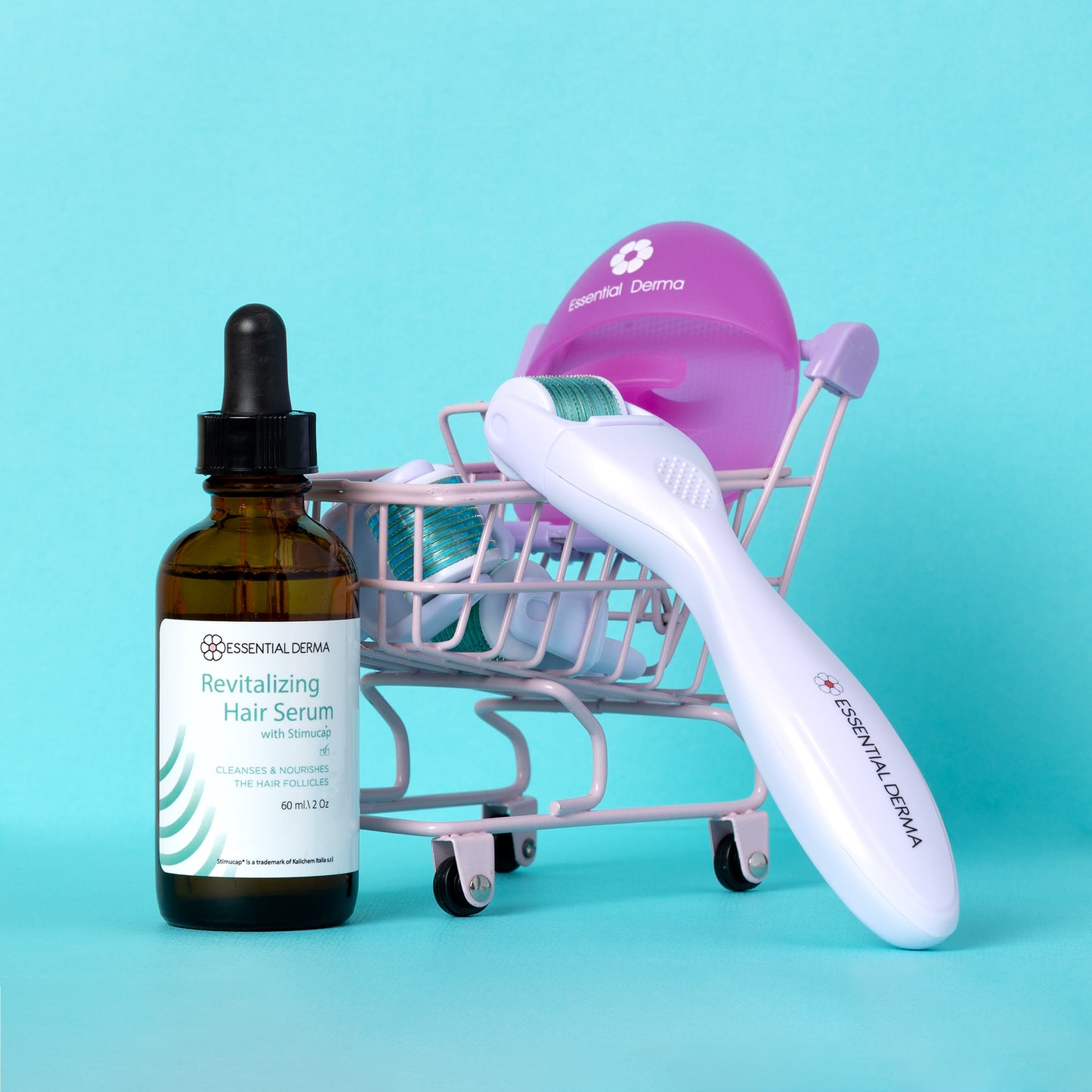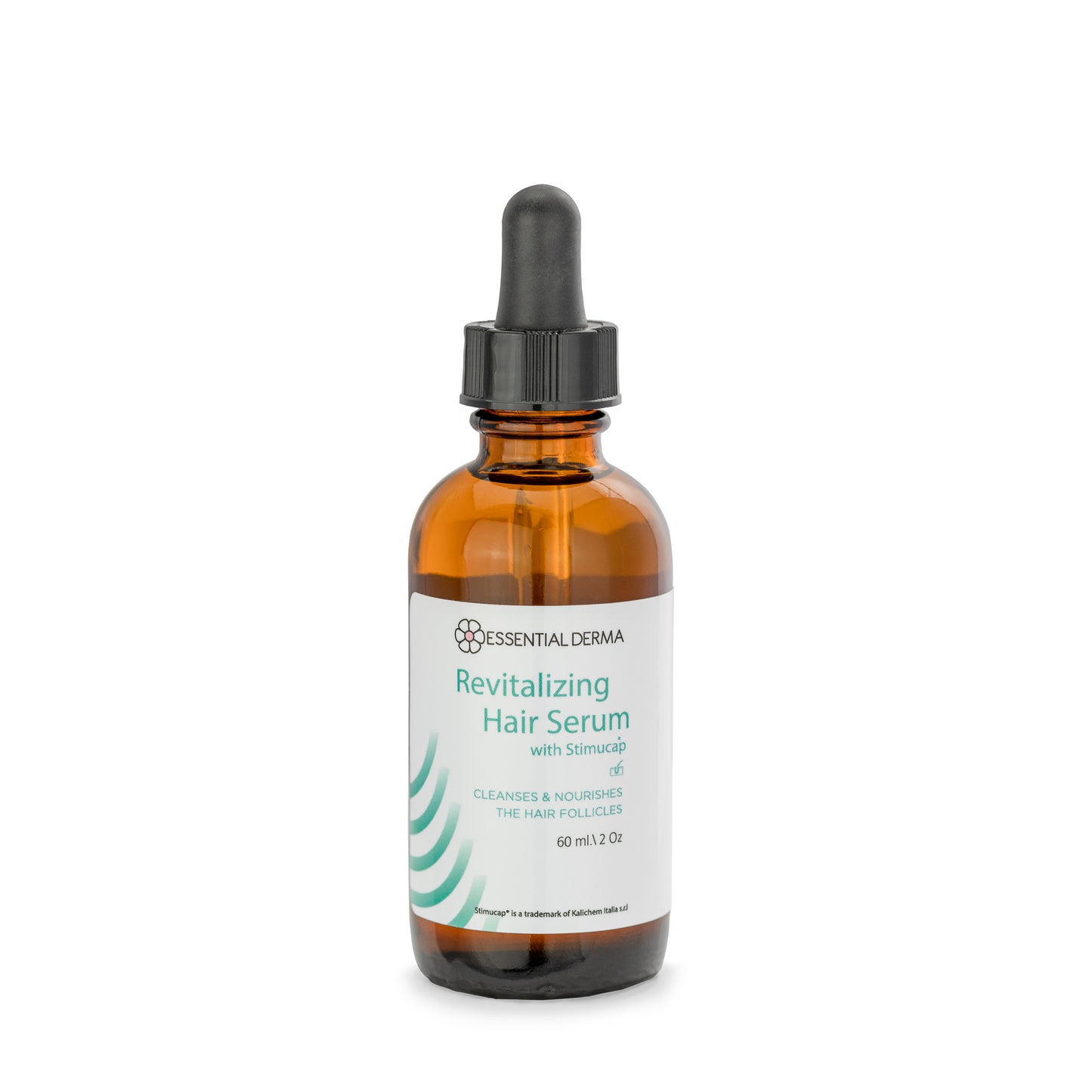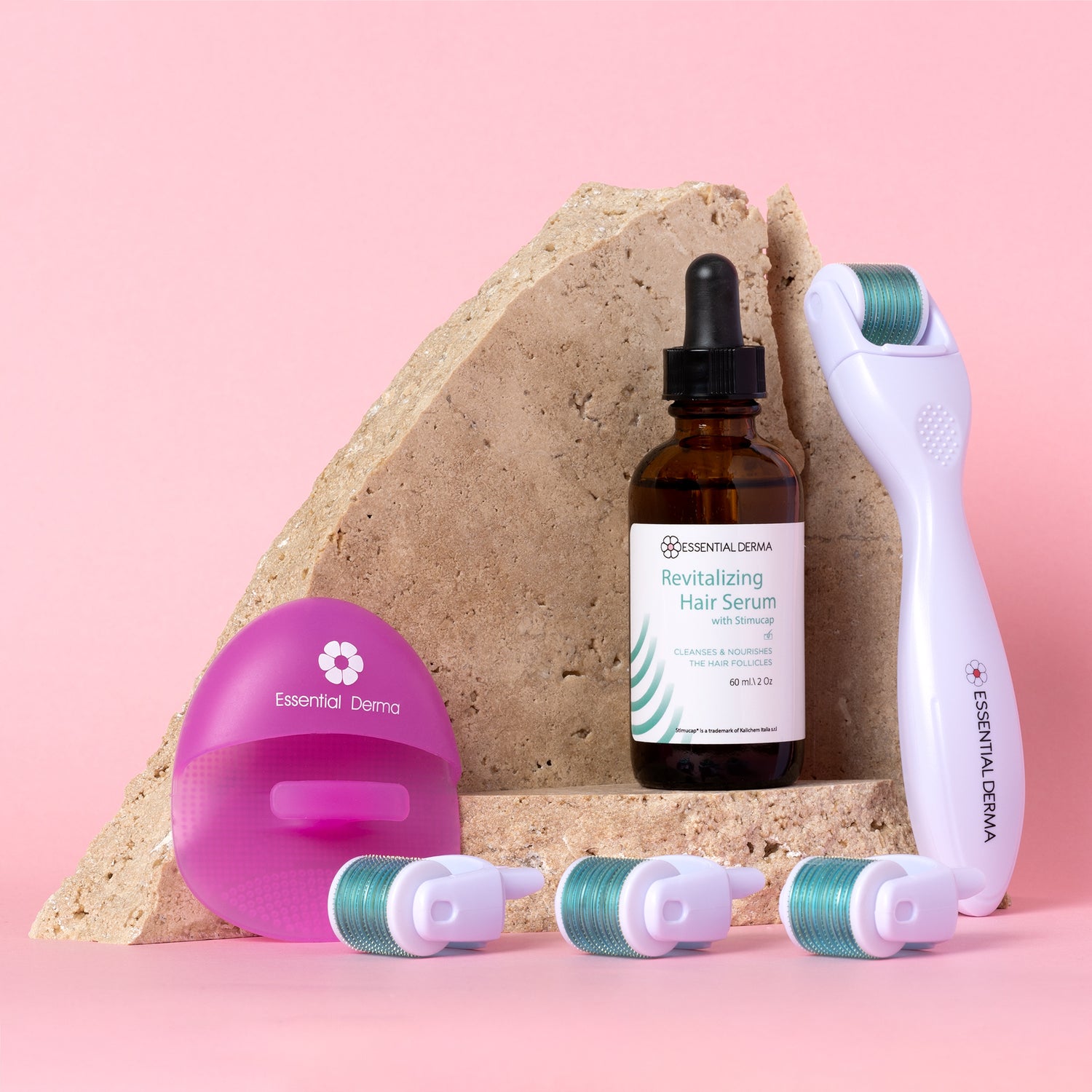 Why Buy Our Hair Growth Derma Roller Kit?
Skin Goal:
Stretch Marks/Cellulite/Body Scarring
Excellent customer service
Fast postage to NZ and excellent customer service. Everything arrived as ordered. Love the width of the body roller head and clear instructions. Looking forward to seeing results.
Skin Goal:
Anti-Aging/Pores/Wrinkles/Eyes
Great quality roller heads
I've only used these a couple of times, but the roller heads are great quality. They don't hurt and don't draw blood.
I had an issue with the handle and the customer service was absolutely fantastic.
Skin Goal:
Pigmentation Problems
Best Derma Roller
I saw this kind of roller from some advertisements in Facebook; and subsequently I found Essential Derma from Google. Having sent inquiry to Essential, I received instant response from Catherine who is the Skin Enthusiast. After a few discussions, I have decided to purchase the "Hair Regeneration Booster Derma Roller Kit" to resolve my pigmentation problem as well as to grow my hair.
I have used the product for 3 weeks. Frankly, my pigmentation on my face has been greatly reduced though hair growth has yet to see. I am sure this product works for me and I will continue to purchase this product. Highly recommend!
Skin Goal:
Hair Regeneration
Hair treatment
Hi there!
I bought myself a hair rejuvenation kit afew weeks ago
Since then I have seen little bits of improvement but nothing too major,
All though I am still using the product in hopes to see more changes.
I love the product but perhaps you could gove abit more instructions .
Thank you
Hi Cayden,
Thanks so much for your review.
Hair growth can take multiple months to start seeing some positive changes. As you've only been rolling for a few weeks its very early days. We're confident you'll be much happier after rolling for a few months.
If you have any questions, please contact us at any time. We're here to help
Skin Goal:
Hair Regeneration
Love the product
Very quick delivery. trying on hair and too soon to see results but happy wioth customer service.
Skin Goal:
Anti-Aging/Pores/Wrinkles/Eyes
Great product
so Far so good face feels a lot firmer and better texture, hope it continues to do its thing 😳
Skin Goal:
Hair Regeneration
Great customer service
Really happy with my Derma roller . Quick delivery and easy to follow instructions I have just started using it and it's easy to use .
Skin Goal:
Hair Regeneration
Excellent customer service
The knowledgeable staff helped me to buy the right product for my circumstances. The post delivery was very quick. Thanks essential derma.
Skin Goal:
Hair Regeneration
Great Customer Service
Just received it. Haven't started using yet. Essential derman provided very good customer service and quick delivery.
Skin Goal:
Hair Regeneration
Service and delivery
To early to say if there is any change have only used once it's recommended I only use twice a month but service and delivery 100%