---
New to Derma Rolling?
Not sure what size you need?
Try our size choosing tool - It takes less than 20 seconds!
---
Do You Remember When Your Skin Looked Young & Healthy?
This Anti-Aging Ultimate Kit will have your skin looking firm, healthy and hydrated in no time.
We've come up with the Ultimate bundle that will help shoot your skin to the next level.
All items that come in this kit are suitable for helping to improve the appearance of fine lines, deep lines, wrinkles, crows feet and more.
If you're main goal is to improve your skin and you're willing to do anything you need to achieve it - This kit will be your little secret to getting your skin looking healthier than ever.
---
Do You Have a Problem with the Following?
Mature Aged Skin
Fine Lines
Deep Lines
Crows Feet
Sagging Face or Neck Skin
These are all problems that healthy skin can solve and the number one thing you can do is start working on your skin today!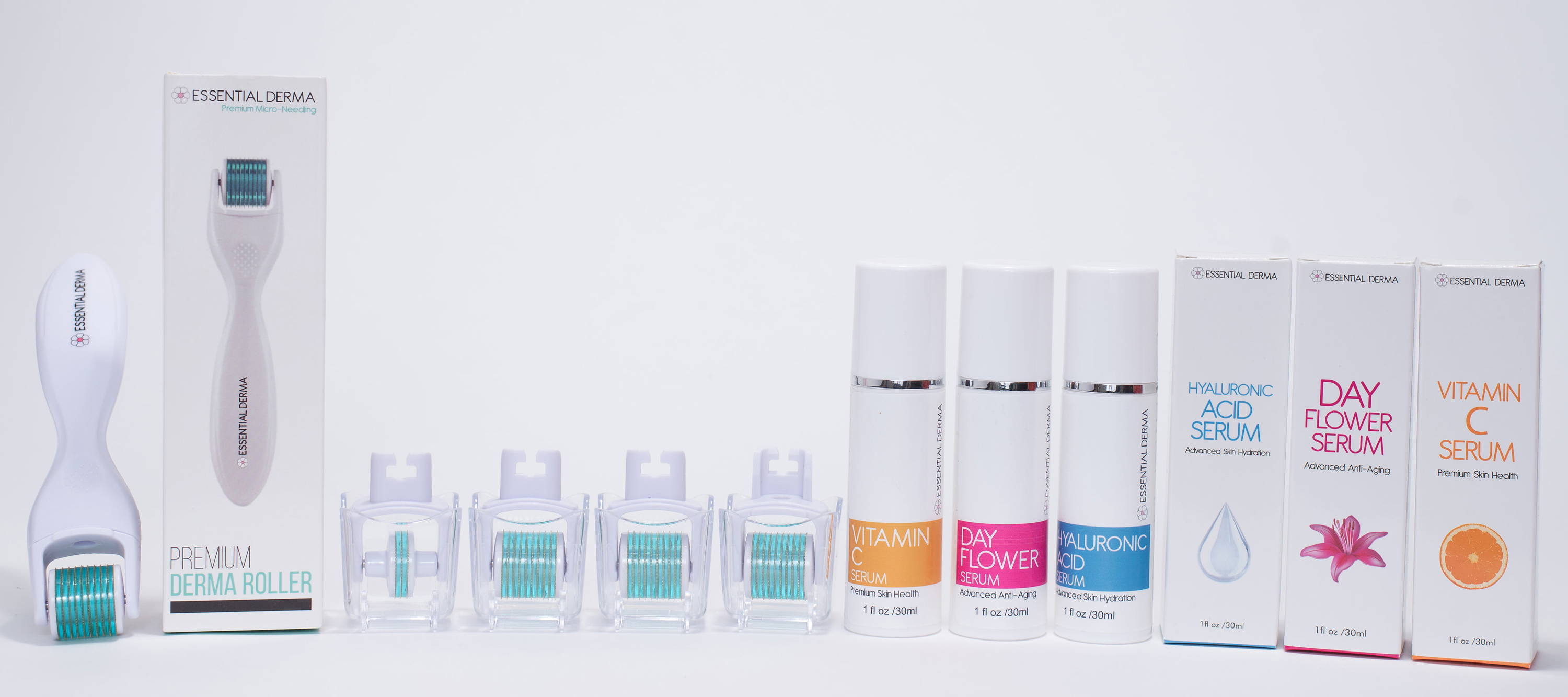 ---
Compare Our Anti-Aging Derma Rolling Kits
-0.5mm Premium Derma Roller ($79.95)
-0.25mm Derma Roller Head ($49.95)
-30ml Hyaluronic Acid Serum ($59.95)


Total: $189.95 

Beginner Package - $149.95     
Save $40 
Everything in The Beginner Kit Plus +++
-1.0mm Derma Roller Head ($49.95)
-0.25mm 180 Needle Derma Roller Head ($39.95)


Total: $279.75 

Standard Package - $199.95  
Save $79.80
Everything in The Standard Kit Plus +++
- Extra 0.25mm Derma Roller Head ($49.95)
-30ml Vitamin C Serum ($59.95)
-30ml Day Flower Serum ($59.95)

Total: $449.60

Ultimate Package - $319.95 
Save $129.65 
Why Buy Our Anti-Aging Derma Rolling Kit?
Everything You Need in a Simple Kit
Titanium Needle Derma Rollers
Natural Serum Ingredients
Australian Made Serums
Money Back Guarantee
Vegan & Not Tested on Animals
In Stock & Shipped from Sydney
Unlimited Skin Coaching from Our Staff
---
OUR ADVANTAGE
The one thing that gives you a major advantage over everyone else is if you combine our skin care serums with our derma rollers you'll be able to get up to 40% higher absorption rates.
Its all well and good using skin products, but did you know you lose most of it in the absorption process? Using a simple 0.25mm derma roller has been shown to increase absorption by up to 40% which will ensure you get the best results possible for your skin.
All of our serums have Naturally Derived Ingredients, *Organic Ingredients where possible (*not certified), Australian Oils, Fruits & Extracts, Aromatherapy Oils, Sustainable & Ethical Ingredients and Natural Preservatives.

NO JUNK POLICY
We ensure that our products are 100% free from all those nasty ingredients such as Sulphates, Parabens, Phthalates, Petrochemicals, Synthetic Colours and Synthetic Fragrances.

ANIMAL TESTING POLICY
Under no circumstances do we preform animal testing or even condone this kind of barbaric outdated practise. Essential Derma is 100% Animal Cruelty Free.

VEGAN
Our products are 100% Vegan, with no animal bi-products being used in any of our formulations.
 
All Products on Essential Derma are Brand New